Introduction
Brochure
Quick install guide
App.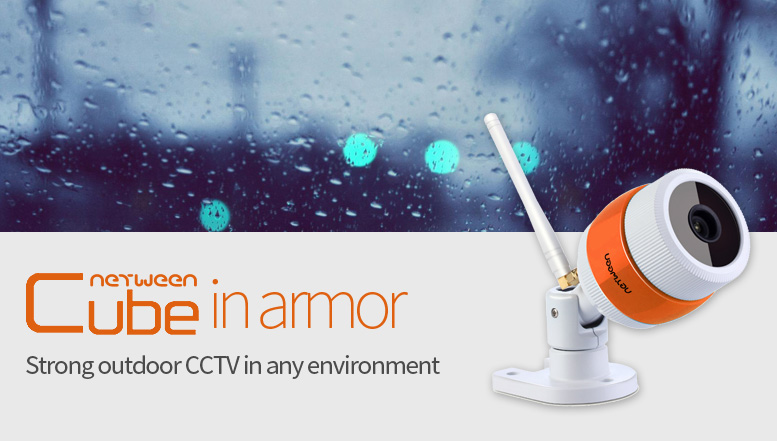 Power wireless connection CCTV to external environment
Outdoor CCTV should be strong against wind and rain, and ensure clear picture even in the dark.
Total Solution Company Netween-proposed outdoor CCTV, Netween Cube IRON
Convenient installation
Compare to other company's products that require installers
Wasn't it hard working on wire construction from outside buildings to fences and other facilities?
Netween Cube IRON can be installed by itself because it supports wired connection as well as wireless WiFi connection wition 50m.
Sturdy durability
Netween Cube IRON, strong even in a volatile weather
Cannot even change CCTV often…
Outdoor CCTV should be durable enough to prevent damage from breakdown.
Efficient configuration
A combination of indoor Netween Cube and outdoor Netween Cube IRON
You can configure Netween CCTV system.
More affordable, high compatible, and indoors & outdoors Total Solution CCTV systems can be built.
Specification
Camera
CMOS Sensor
OV9712 (1 milion pixel)
Resolution
HD (1280*720), VGA(640*480)
Lens
3.6mm 3MP 1/2.7″ optics lens, 90 degree
White Balance
Auto
Video format
H.264
Night vision
IR_Array LED (Distance on 15m)
IR_Cut filter
Yes
IR_LED
850nm
IR_Array LED
Six
Motion Detection
Yes (Push alarm)
WiFi
WiFi Type
Station mode, AP mode
Wireless distance
50m
Channel
Ch.1 ~ Ch.13
Radio transmission
14dBm
Antenna
3dBi internal antenna
External appearance
housing design
Bullet type (waterproof)
Working
Temperature
-20℃ ~ +70℃
Network
Time
GMT+9 (Republic of Korea)
Web UI
Yes
WiFi Password
Open / Shared / Web auto / WPA-PSK / WPA2-PSK
IP address
DHCP
Remote connection
Netween Inc. own server (P2P, Relay, Certification, Push)
Firmware upgrade
Supporting remote upgrade through the App.
Wireless WiFi
IEEE802.11b/g/n
NVR
OnViF 2.01, NVR
Ethernet
10/100M Base-T, RJ45 (link LED)
Save
micro SD slot
Support max 64GB
Language
 
Kor / En (Web UI)
Power
Power jack
micro USB
Adapter
+5VDC / 2A
What is good about Netween Cube IRON?
Available to view as ONE link
Share through a single URL with whomever you want
Just send your URL. If you send URL through messenger app, text, mail, or any way you want, you can register Cube IRON through Cube IRON's app and monitor right away without special serial number and password. If I register my camera with my parents, I think they will see my private life… Don't worry. If you see the time with the Netween Cube IRON, you can open the desired time only.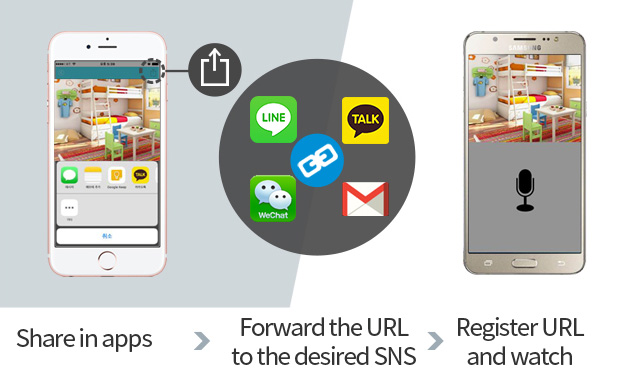 IP65, Strong durability against environmental changes
Reliable quality that can be used even outdoors
The Netween Iron is firmly guarded like a knight in ironclad.
Ensure trouble-free operation due to rain and wind humidity change.
Wired/Wireless connection available
Wireless connectivity up to 50 meters
No more wiring connectors that are complicated and damage the appearance.
Netween Iron supports WiFi connections up to 50m, making it easy to install without complicated wiring.
Netween Cube, IRON, NVR integrated system
Integrated management in one application
Indoor program, outdoor program If you were uncomfortable with different systems, check out Netween.
For being fully compatible with all Netween products, integrated management and motion alarms are available through a dedicated application.
---