Brochure
PC Program
App.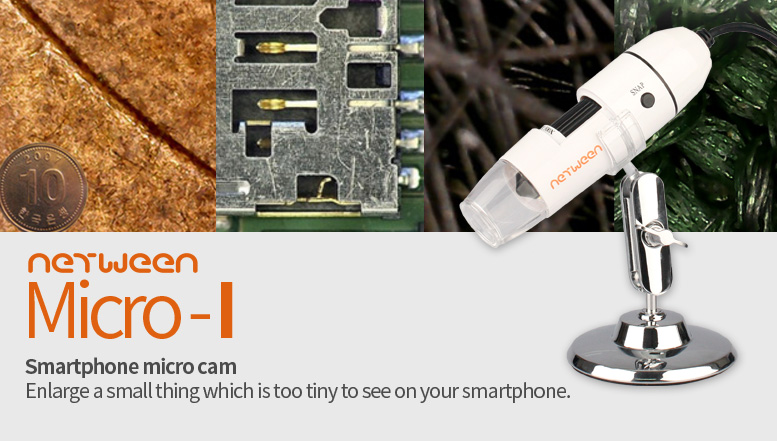 Making look more clearly as 500 times enlarged screen.
Micro I is a smartphone micro scope for dry skin, hair condition, kids' science learning and little damage on a component.
Look enlarge, Meet new world.
Easy to use
Support Plug & play
Working as soon as you plug in and play. Connecting your smartphone, Netween Inc's exclusive app show the screen.
Enlarge to maximum 500 times.
Just rolling the zoom roll.
Enlarge from min 50 times to max 500 times – rolling the middle wheel, you can make a rate you want.
Exclusive bracket
Bracket for anti shake and stable monitor
Is your screen not stable because of hands shake?
Use the exclusive bracket. You can find high rate screen without shake.
---
Use to many ways
From professional work to kids' science learning and skin care – Use it space and situation.
Skin, pore, wrinkle and hair as a beauty cam
Plant cell, insect as a micro scope
Material, surface scratch as a industrial cam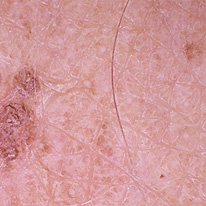 Skin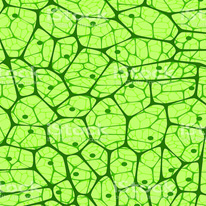 Plant cell
Checking Metal surface
---
Easy to control the rate with zoom wheel.
Just roll the middle wheel and control the rate as you want
Rate depends on distance.
Being able to zoom in and out from min 50 times to max 500 times.
Watching the clear image with raising and lowering the magnifying power.
No shaking with the bracket.
Fix the micro-I on the bracket and observe.
Preventing hands shaking and note taking with
When image is hard to fix because of the hand shaking, or when you do two things at the same time, you can work more correctly with the bracket.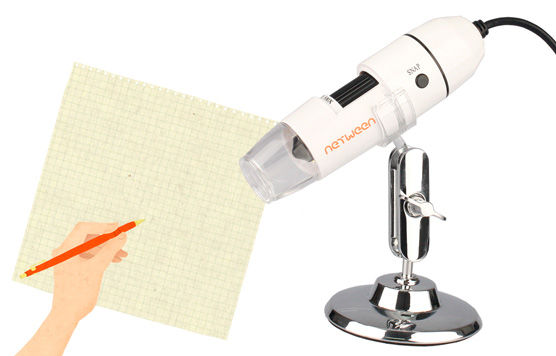 Specification
Camera
Camera sensor
CMOS Sensor
Resolution
VGA(640*480)
Pixel
300,000 Pixel
Maximum raising magnifying power.
500배
Focus distance
8mm~60mm
Design & socket
Color / weight
White / 90g
Socket type
USB 2.0
Light
High brightness eight LEDs
Result
Image frame
30fps / image capture
How to use
Plug & Play